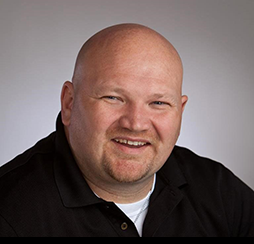 It always drives me crazy when I read a Bio and it's in the third person …you know, like "Chuck likes Turtles"…
So, if you care:  I grew up in East Tennessee, but my radio career has taken me to Roanoke Virginia and to Asheville North Carolina where I met the love of my life, The Smokin' Hot Rebecca.  We have a blended family like the Brady Bunch…4 Boys, 5 if you count Jackson or Boxer/Pit Bull mix….LOVE, LOVE. LOVE my family!!!  I'm humbled to be part of the awesome team here at Maverick 102.3…I'm actually the GM of the 7 stations owned by First Media RR.  The staff here makes my job a cake walk, but don't tell my boss cause he thinks I'm killing myself here.  Before coming to Roanoke Rapids I owned some stations with my EX-Best Friends in Marion Va and just down the road in Ahoskie, NC…note I said Ex-Friends…guess that about says it all…lol.
 What do you like about Radio?  I love the listeners!!!  I want to hug every one of them!!!  They are why we get to do this every day instead of having to work for a living.
What's your Favorite Food?  Mexican…I could eat it every day!  When I was little, my babysitter was Spanish.  My Mom said she pick me up and kiss me and my lips would actually burn her mouth from all the hot foods I'd eat…still, love spicy food.
What are your Hobbies?  I use to love to ride my Harley…I've had several, but did I mention I owned radio stations with my ex-friends?  That ended my riding days…maybe I'll get another one soon…
What's your favorite thing to do while not at work?  I love to sleep!!!  Hang with my family…LOVE THEM!!!  So, Very Blessed!
The Thing you like the least?  Mean People…I think we should try to find the good in everyone and help them up if we can.
What's your Favorite Quote?  You gotta be tough when you're stupid!!!  A radio guy that I grew up listening to and ended up getting to work with later in life shared that with me.  He also told me "Never trust a fart"…I found both very useful!  Thanks, Reggie Neal!!!
What's your Favorite TV Show?  I'm into car shows right now…Bitchin' Rides, Detroit Steel, but also like all the NCIS shows too.
Share any Words of Wisdom?  Never give up!  God has made you an over comer!  TRUST ME!  I won't bore you with my silly stories, just trust me…you're worthy and can do anything you set your mind to…show up for life every day and kick its butt!!!
What do you think would help solve the world's problems today?  I love politics, but won't share mine…no one wants to hear that, but I think two things would help…1) Lot's of Prayer! 2) If we'd stop thinking so much of ourselves and show some respect for others.  The Bible says "Die to thyself"…I'm not 100%, but I think it's saying "Get over yourself"!!!